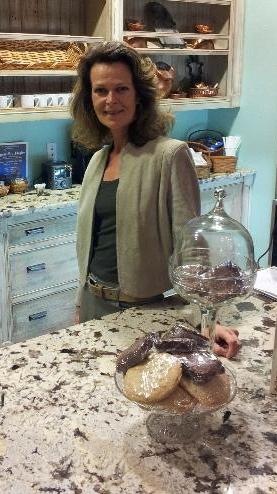 The southern girl from Savannah, Georgia who's mom started her second career by owning her own catering company in Savannah. Having both grandmothers cook and bake for a living, I find myself living my life's destiny. I moved to Europe thirty years ago and it was there a seed was planted to own a café. While in Europe for over a decade I launched my catering company. Little did I know it was just the beginning of something that would grow. From the experience and exposure in the café scenes in Europe my culinary sensibilities were heightened to another level. So, I followed my heart, moved to Wilson, North Carolina eight years ago and today City Market Café and Catering was born.

City Market Café and Catering opened its door October 15th, 2012. As I called it "Marvelous Monday." With the assistance of my staff we at City Market Café and Catering have not only pleased the pallets of our guests at the café but offer an extension with our catering abilities. Opening City Market Café and Catering wasn't just fulfilling a dream of mine. But, it was a shared dream for our community. We all wanted our historical downtown to have a charming café.

We at City Market Café and Catering take pride in everything we serve are made right in our own kitchen. We offer the freshest ingredients from our whole made salad dressings to our scrumptious baked goods.

Our door is now open so come by and enjoy what City Market Café and Catering has to offer.