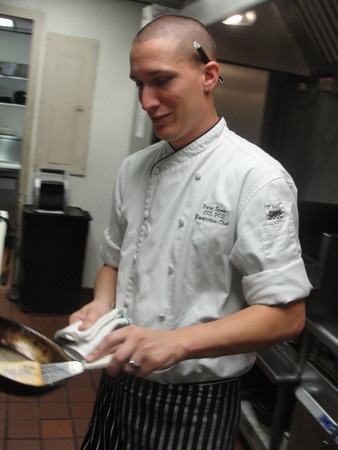 .

After spending most of his life in the kitchen, Chef Peter has developed a true passion for the culinary arts. After spending time in some of Florida's best fine dining restaurants and country clubs, Peter settled down in Tallahassee, Florida. That's where he took a sous chef position at a friend of his restaurant called Fusion Café. While working there I earned a dual certification from The Culinary Institute of America (CIA) as a Pro Chef Level 2 (PCII) as well as a Certified Chef de Cuisine (CCC) from The American Culinary Federation (ACF). While working there I was offered the Executive Chef position at Capital City Country Club. During my time at the country club I spent a lot of my time catering to the large events as well as the member's fine dining, and competing in culinary competitions.

I moved to Wilson North Carolina in 2008 to open the former Le Doux Café and Bakery. While opening the restaurant we decided to part ways and I took the Executive Chef and Director of Culinary Operations of The Franklin Hotel. While leading the culinary team there I was asked to do a teaching demo at The Art Institute of Raleigh / Durham on Post-Modern Cooking Techniques (Molecular Gastronomy). Not long after leaving the hotel when the ownership changed Peter and his wife Kate welcomed the birth of their son AJ.

After the birth of their son, Peter spent time traveling and interviewing for chef positions in New York, under Certified Master Chef (CMC) Edward Leonard at the Westchester Country Club in Rye, NY. I also interviewed in Concord, Ma. The position was only 5 months long, it was a consulting position. It was to help re-design the restaurant. After the consulting job was over we moved back to Wilson, North Carolina. I spent some time at the Wilson Country Club as the Pastry / all around guy.

I am currently pursing my next two levels in my certifications, which are the ranks of Certified Executive Chef (CEC) followed by the highest honor an American chef can achieve which is the Certified Master Chef (CMC) title.